Surge Protection to 120 amps
Fitting a Plug In Galvanic Isolator couldn't be simpler. You don't need any electrical knowledge or tools, and fitting takes about 30 seconds. And it works just as well as the wire-in type.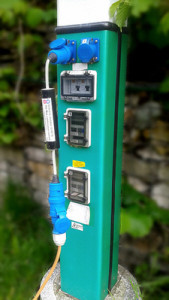 Our Galvanic Isolator GI50/16 simply connects between your shore supply and the mains inlet of your boat. You can fit it at either the boat end or the shore end. The picture shows it fitted at the shore end.
   Uses NO power

   100% Maintenance Free

   30 Seconds to Fit

   Fit & Forget operation
The Isolator is designed to STOP Galvanic AND Leakage currents in their tracks, whilst ensuring that the safety electrical earth is unaffected. So you remain FULLY PROTECTED from electrical faults. Its a quick, simple no-compromise solution to the corrosion that YOUR boat will almost certainly be suffering unless you have an Isolator
fitted.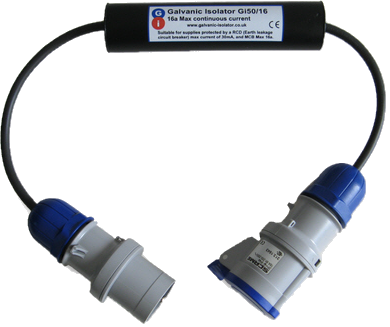 The GI50/16 is fully guaranteed for 5 years against faulty materials and manufacture. We also offer a FREE checking service for your peace of mind. (You may want to get your Isolator checked in the event of a major electrical fault, lightning strike etc).
If your mains connecting cable has a socket that matches the measurement in the photo, this is the correct isolator for you.

If NOT, please go HERE
IN STOCK for immediate dispatch.
Prices INCLUDE postage in UK. Please contact us for international shipping costs.
[scabn name="Galv Isolator Gi50/16″ price="67.00″ qty_field = "true" b_title="Add To Cart"]
Specification
Voltage: 110 – 250Vac
Through Current 16A
Max Surge Current 120 amps
Temperature Range -50c to 120c
Fully Waterproof body to  IP66
Connectors Waterproof to IP44
Quality Construction
Fit & Forget operation
30 second install time
The GI50/16 is suitable for shore supplies that are protected by a RCD (Earth leakage circuit breaker) with a tripping current of 30mA or less, and MCB 16a or less. If in doubt, please contact a qualified electrician, or call us on 0757 807 3490