It might sound crazy, but a narrowboat with even moderate pitting can lose a frightening amount of it's hull to Galvanic Corrosion.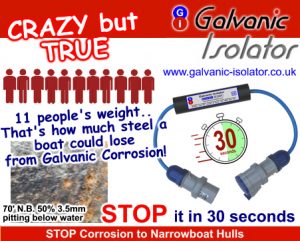 Galvanic Corrosion happens when you're connected to an electric hook up – it's the result of a chemical reaction that goes on day and night as long as you're connected.
You can STOP it in it's tracks by fitting a simple Galvanic Isolator, costing WELL under £100. The isolator in the picture doesn't even need a screwdriver to fit it. Simply plug it in.
In fact, if you can't fit it yourself in seconds, you're welcome to return it for a full refund.
Check out the simplest Galvanic Isolator in the world HERE.
Where do we get our figures? 
A narrowboat can, over time, lose approx 700Kg or more due to corrosion. Based on a 70ft NB. Approx 50m2 of underwater steel (inc base plate). 3.5mm pitting. Estimated 50% loss of steel in pitted area. Steel weight: 8,750g/M3. Human weight 62Kg.