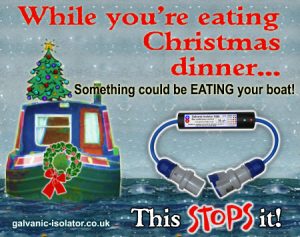 While you're Christmas shopping, partying or even enjoying Christmas dinner, Galvanic Corrosion could be taking big bites out of your boat's anodes & hull.
You can EASILY prevent this with a Galvanic Isolator.
Fitted in seconds, a Galvanic Isolator could save you £1000's over the winter months.
PLEASE don't leave your boat over winter without one. You can buy a Galvanic Isolator for UNDER £60 (at time of posting). It could save you a small fortune in next to no time.