It's VALENTINES day, and we hope you bought the Love of Your Life something REALLY nice.
This year, instead of Saying it with Flowers, (or chocolates), you could give the Gift that Keeps on Giving - a Galvanic Isolator!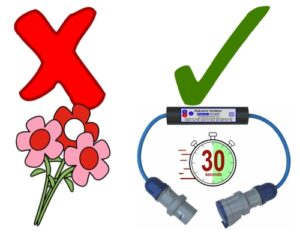 OK... A Galvanic Isolator might not be the most romantic gift ever, but it'll show your boat just how much you care for her. So... if you're CRAZY about her HULL, and just LOVE her sterngear, a Galvanic Isolator is the way to go.
When you're a boat, Galvanic Currents are a real turn off. So why not show how much you love her, and give her a brand new Galvanic Isolator for Valentines day! She'll love you forever.
Joking apart, every boat should be fitted with a Galvanic Isolator, because without one, you run the risk of Galvanic currents, Stray currents and earth leakage causing SERIOUS damage to her hull - not to mention her prop' and stern gear. A Galvanic Isolator is super-easy to fit, and in most cases you don't need any tools or electrical knowledge.
We realise that boat electrics can seem like a bit of a black art, so we designed our range of Plug In Galvanic Isolators to be simplicity itself to fit. Result.... top class protection, without having to call an electrician to fit it. You can fit our plug in Galvanic Isolators yourself in just a few seconds.
For more info, please...

Covid info: We are working normally. All of our products are in stock, and available to buy right here on our website with FREE delivery – normally next day.