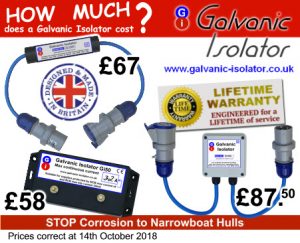 !! Don't forget that if you lay your boat up with the electric plugged in, you still need Galvanic Isolation – even if you're not using much power !!
Galvanic Isolators are a great idea. They protect your boat from corrosion when you're hooked up to an electrical supply. But they cost a FORTUNE, don't they?
Errrr… no – not really. In fact you can protect your boat for under £60.
Galvanic Isolators sound complicated, but they're really easy to use, and our plug-in models don't even need a screwdriver to fit.
Much more information right HERE