Galvanic Isolators for boats
Learn More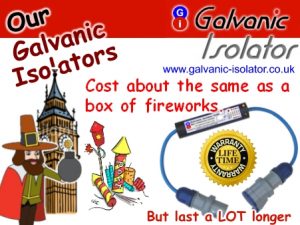 Galvanic Corrosion is to boats, is what Guy Fawkes was to Parliament. Destructive.
Galvanic Corrosion slowly eats through your boats metalwork and anodes. It's a bit slower than explosives, but the damage it does is immense. Some boats have actually SUNK as a result.
If you're mooring your boat over winter, and have an electric hook up, you need Galvanic isolation. We have a great range of Galvanic Isolators that don't cost a bomb! Please click the button at the top of this message for more info. Have a great day!