Galvanic Isolators for Boats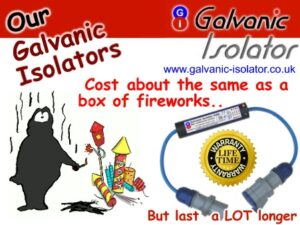 Galvanic Corrosion is to boats, is what Guy Fawkes was to Parliament. BAD news!.
Galvanic Corrosion slowly eats through your boats metalwork and anodes. It's a bit slower than explosives, but the damage it does is immense. Some boats have actually SUNK as a result.
If you're mooring your boat over winter, and have an electric hook up, you need Galvanic isolation. We have a great range of Galvanic Isolators that don't cost a bomb! 
Our Isolators are quick 'n' easy to fit. You don't need any tools, and fitting takes just a few seconds so you won't get frostbite.
For lots more information, and to order, please click <HERE>