Happy Bank Holiday Weekend!
Here at the Galvanic Isolator co., we are working right across the Bank Holiday. After all, Galvanic Corrosion doesn't stop for the Bank Holiday, so why should we?
In fact, while you're soaking up the sun, or GETTING soaked by the rain, Galvanic Corrosion is eating away at your boat… rusting the hull, and putting pits in her prop'.

Fortunately, our Galvanic Isolators never have a day off either. They just keep right on protecting your boat come rain or shine. If your boat doesn't have a Galvanic Isolator (yet), now's a great time to get one. And the best news of all is that fitting your Galvanic Isolator will take about as long as it's taken you to read this advert.
Of course, Galvanic Corrosion is only a problem if you're connected to an electric hook up. If you NEVER connect to a hookup, Galvanic Corrosion shouldn't be a problem. But if you DO use an electric hookup, Galvanic Corrosion is a fact of life, and it can cause serious damage to a boat – even if your vessel has a GRP (or similar) hull.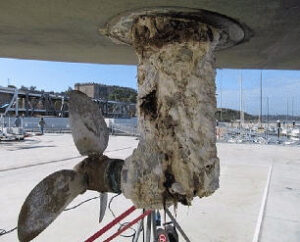 That's because outdrives, outboards and in fact all types of stern gear are vulnerable to Galvanic Corrosion. Check out the image showing Galvanic corrosion to a saildrive. A Galvanic isolator could have prevented this!
Unfortunately, Galvanic corrosion doesn't just affect casings etc., it also damages the internal gearing, bearings etc., making repairs expensive, but more importantly, impairing the reliability of your drive system.