What could be scarier this Halloween, than your boat silently rotting away without you even knowing about it?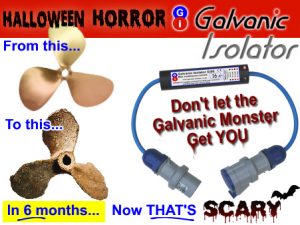 If this all sounds like something out of a scary movie, you'd be wrong!
Every day, thousands of boats are at risk because they don't have a Galvanic Isolator fitted.
Galvanic Corrosion really DOES sink boats. And you can stop it – DEAD with
one of our simple plug in Isolators.
Grab yourself a galvanic Isolator – before the Galvanic Monster gets YOU!!
Check out our latest galvanic Isolator with Earth Leakage Protection HERE