Why YOUR boat needs a Galvanic Isolator
If your boat doesn't have Galvanic Isolation, it's probably corroding faster than it needs to.
A Galvanic Isolator stops Corrosion Currents from flowing in your mains hook up cable. These currents corrode hulls, waste anodes and damage propellers etc. You can stop them for under £100.
All  boats that are connected to a shore supply can have Galvanic Currents. That's because when it's in the water your boat acts a bit like a battery. The voltage it creates causes an electric current to flow, and this carries molecules of your boat away. In time, you'll see wasted anodes, and pitting – especially around the waterline. It's worth checking for this right now. (Take a look at the image at the bottom of this post).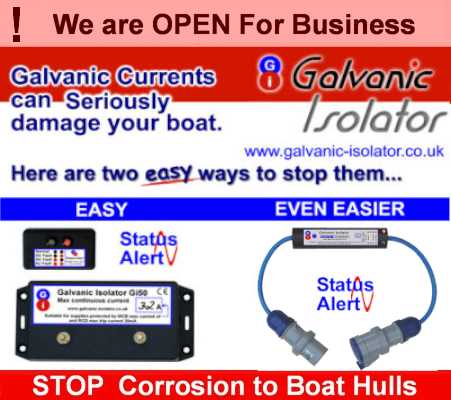 Maybe you thought that stopping corrosion to your boat was hard. If so, I've got great news for you…  IT's NOT! In fact, fitting a Galvanic Isolator is probably the simplest single thing you can do to STOP Galvanic Currents from rotting your boat's hull.
Fitting a Galvanic Isolator is SO easy that some people have trouble believing just how effective a solution it can be, but make no mistake – these things do the job. In fact, not only can our isolators prevent Galvanic Currents, they also protect against Earth Leakage, which are even MORE damaging.
Avoid hull damage, prop' corrosion, overplating etc…. fit a Galvanic Isolator. It takes less time than reading this post!!