Galvanic Currents wreck boats.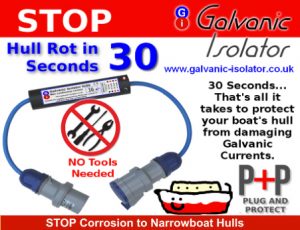 It's true! Galvanic Currents really do wreck boats! Earth Leakage does the same – only faster. If your anodes don't last as they should, if you have pitting around the waterline, or if your prop's starting to show signs of corrosion, there's a good chance that this is caused by Galvanic Corrosion.
The great news is that it's easy to stop Galvanic Currents. Our simple plug-in Galvanic Isolator does just that AND it protects you from devastating Earth Leakage Currents too. All for under £100.
To find out how to protect YOUR boat, please click HERE for more information.