Description
Surge Protection to 500 Amps
Plug In Galvanic Isolator. Designed & built in the UK. Ideal for all types of boat, that connect to a shore supply using the standard 16a connectors. Perfect for Canal, River and Sea vessels.
500 Amp rated
2-Stage Protection
Compact Design
Lifetime Guarantee
A high quality Galvanic Isolator. CE marked. Hand built and individually tested for full compliance with specification.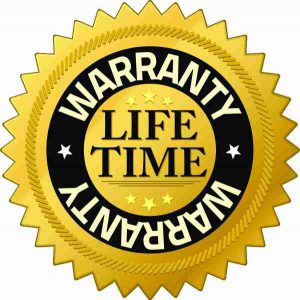 Unconditionally guaranteed to prevent Galvanic Currents from flowing in the boat's mains hook up cable. No "If's", no "But's"… it does exactly what it says on the tin!
The Gi-120/A plug-in Galvanic Isolator is easy to fit, and gives a high level of protection.
It provides excellent protection from Galvanic Currents flowing in the mains hook up cable, and can prevent severe corrosion of hull, anodes and underwater metalwork.
FANTASTIC VALUE. How do we do that???

We sell more Galvanic Isolators than any other UK manufacturer, so we are able to purchase our components in vast quantities. Also, because we manufacture our products ourselves, rather than importing them from the far east, we make great savings, which we are happy to pass on to our customers.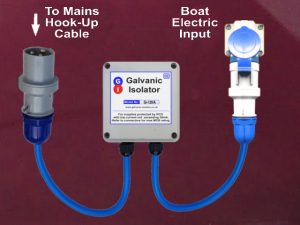 Installation requires no electrical knowledge whatsoever. The unit is weatherproof, and is intended to be mounted outside the boat. It can be connected at either the shore end or the boat end of the hook-up cable. Protection against Galvanic Currents is instant and automatic.
2-Stage Protection
2 Stage Protection means that instead of a having single protection element, our isolators have TWO, connected together. This DOUBLES the isolation Voltage, and gives added protection against Earth Leakage and Stray Currents.
Easy to fit:
Absolutely NO electrical knowledge is needed. Click HERE to see the fitting instructions. Please see the picture below for "what's in the box".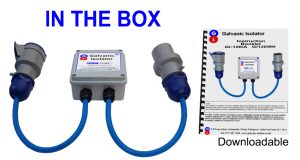 The isolator can be attached to any flat surface, either by using screws, double sided adhesive tape, or a mastic gun applied adhesive.
Again… no electrical knowledge is needed.
However you choose to do it, fitting only takes a few minutes.
LIFETIME GUARANTEE
• Galvanic Current Protection
• Fitted in Minutes
• No Electrical Knowledge Req'd
• Fit & Forget
Guaranteed Effective
Safeguards your boat against Galvanic Currents in the hook up cable. Proven, reliable performance.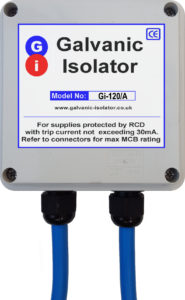 Weatherproof
Featuring a weatherproof enclosure, (IP56) winter (and summer) proof Arctic Blue cable and industry standard connectors with IP44 protection against ingress of water and dust.
500 Amps Rated
The internal components are rated for 500 Amps surge current. All exposed components are UV resistant, meaning that it won't suffer from the extremes of weather.
Plug & Play
Simple installation – the isolator simply plugs on to the end of your boat's hook-up cable. Can be used either at the boat end or the supply end of the cable for ultimate convenience. Maintenance free. The Galvanic Isolator works invisibly in the background, protecting you boat from damaging Galvanic Currents..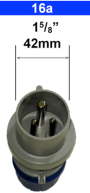 Guaranteed to fit
Supplied with industry standard connectors, your galvanic isolator is designed to fit the standard connector found in all marinas in the UK, and most abroad. This connector is fitted to all narrowboats and wide beams, assuring total compatibility.
Still not sure? If you have any doubts about the size of your connectors, it's easy to check. Just measure the plug, and if it's about the same as the measurements in the picture, this is the right galvanic isolator for you. If in doubt, please feel free to get in touch.
---
Specification Gi-120/A
Voltage: 110 – 250Vac
Surge Current 500A
Temperature Range -50c to 120c
Body waterproof to IP66
Connectors waterproof to IP44
Galvanic Current Protection
2-Stage Protection
Quality Construction
Fit & Forget operation
Simple to fit
Dimensions (approx):

Enclosure 110mm x 110mm x 55mm
Cable 1.25m end to end
The Gi-120/A is suitable for shore supplies that are protected by a RCD (Earth leakage circuit breaker) with a tripping current not exceeding 30mA. If in doubt, please contact a qualified electrician.