Description
Self test Galvanic Isolator
The Gi-120/ST is the only Galvanic Isolator that allows you to test it at the push of a button. NO test equipment or dismantling required. A single push button tests the internal electronic components, AND the effectiveness of the boat's earthing. We believe it it be easily the best Galvanic Isolator on the market.
500 Amp Galvanic Isolator. Test Button. Universal Design - Plug In or Wire In. Designed & built in the UK.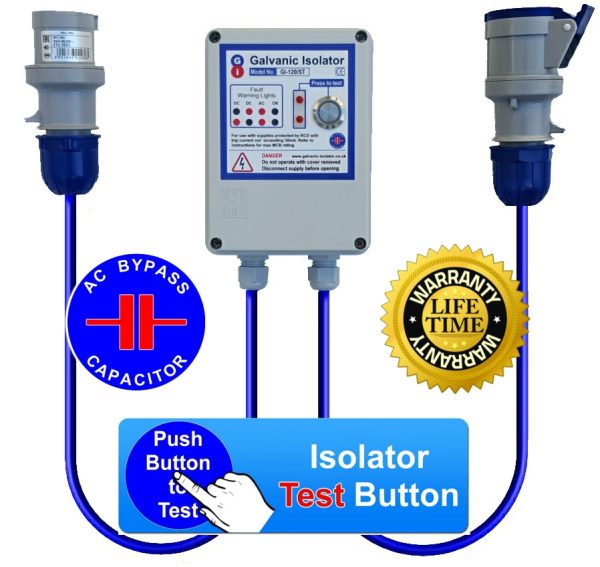 • Protection from Galvanic & Stray currents
• Earth Leakage Warning Lights
• Push Button to Test - No need to remove or dismantle
• 100% BLOCKS Galvanic currents
• AC Bypass Capacitor
This isolator is ideal for all hull materials, including Steel, Aluminium, GRP, Wood etc., and works perfectly in all water types.
The problem with normal Galvanic Isolators, is that it can't be tested without removing it, then using electronic equipment to check it. As a result, most Galvanic Isolators are never checked. This model allows you to test your isolator AND the boat's earthing, at the press of a button. A simple LED indicator confirms that all's well.

The Gi-120/ST totally stops Galvanic Currents. But it does much more than that. It also detects Earth Leakage, which is FAR more damaging than Galvanic Corrosion.  These currents can cause severe hull damage, anode erosion, and damage to propellers and stern gear.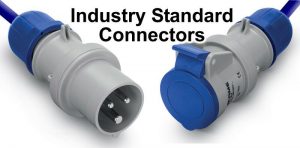 The Gi-120/ST Galvanic Isolator is supplied with a pair of standard 16A connectors fitted, but may also be installed as a wire-in isolator - full step-by-step instructions supplied.
Manufactured in the UK from high quality components, and with a LIFETIME GUARANTEE.
One model does it all. Universal design. Plug In or Wire In.
  • Plug & Play. Requires NO installation - just plug it in.
  • Wire-In. Easy instructions guide you through the installation.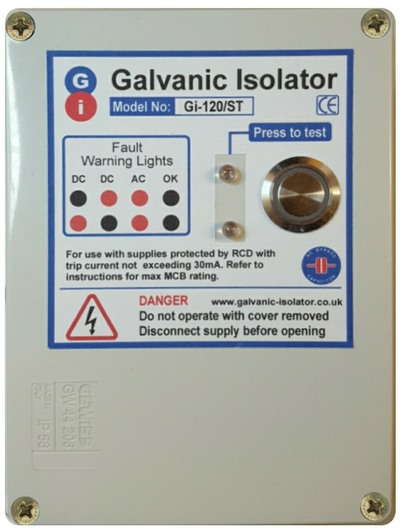 Whether you plug in or wire in, your Galvanic isolator prevents Corrosion Currents from forming an electrical circuit using the shore leads earth connection. This completely blocks Galvanic currents through the mains hookup cable.
Plug it in...
The easiest way to use the Gi-120/ST isolator is to just plug it into your hook up cable. It takes just a few seconds to do. You don't need any electrical know-how whatsoever. There's NO wiring needed. You just plug it into either end of your hook up cable.
Wire it in...
Alternatively, the Gi-120/ST can be "hard wired" into your boat's electrics. It's not difficult, and our instructions guide you through it. The diagram below shows how to wire your isolator in.
Wire In Installation
Wire in installation simply involves cutting the earth cable from the mains input connector on your boat, and connecting the isolator into the break.
This simply breaks the earth connection to the fuse board, then uses the isolator to bridge the break. There is normally NO need to work inside the fuse box. We supply full instructions for fitting, which can take as little as 1/2 hour.
We are happy to offer fitting advice. If in doubt, please consult a qualified electrician.
Your Galvanic Isolator comes with complete downloadable instructions,
and if you need advice, we're only ever as far away as the 'phone.
Fitted with standard 16A connectors.
16A connectors are fitted as standard. These are suitable for 99% of hook-ups in the UK. Some overseas marinas use different connectors.
We are happy to fit different connectors if required, at cost.
Specifications:
Enclosure Dimensions: (Approx): 160(H), 120(W), 75(D)mm
Cable Length (Approx): 1.25m (end to end)
AC Bypass Capacitor: Yes
Voltage: 110 – 250Vac
Surge Current Rating: 500a
Connectors: Standard 16A (Other sizes available - please contact us with your requirements)
IP rating Connectors: IP44
IP rating: Enclosure: IP56
Guarantee: Lifetime
Test Button: Tests internal electronics and external earthing
The GI-120/ST is suitable for shore supplies that are protected by a RCD (Earth leakage circuit breaker) with a tripping current not exceeding 30mA. If in doubt, please contact a qualified electrician, or call us on 0757 807 3490.