Galvanic Currents are tiny electrical currents that do MASSIVE damage to your boat.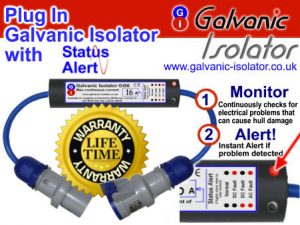 Protect your boat against damaging Galvanic Currents and Earth Leakage. 
Ever wondered why the hull's pitted, or the anodes don't last? Chances are that your boat has Galvanic Corrosion or, worse still, Earth Leakage. Don't worry – our Galvanic Isolators offer protection against BOTH – in a simple device that you just plug into your electrical hookup lead.
No installation, tools or electrical knowledge needed – even an adult can do it! Lifetime guarantee. Please click HERE  for more info.