Chandlers stocking Galvanic Isolators
Galvanic Isolators can protect your boat against premature corrosion! So we try to make them as easy to buy as possible.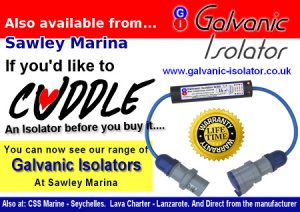 Now we're delighted to announce that, for those who would
like to buy our Galvanic Isolators from a chandelry,
you Sawley Marina, near Nottingham have become stockists of our products.
Of course, you can still buy direct from us right here on our website. Please click HERE.
Whether you buy direct, or from ANY of our agents, you'll
still get our legendary LIFETIME Guarantee, and technical
support.