Until the end of May, you can get our top selling Galvanic Isolator for just £55.99.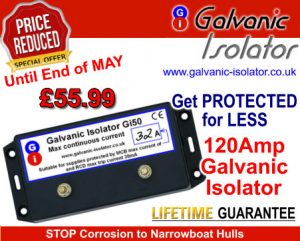 With it's 120Amp rating, this isolator completely STOPS Galvanic Currents from flowing in your boat's electric hook up cable.
These currents can devastate a narrowboat's hull, anodes, prop', etc.
•  Only two wires to connect up…. Even a man can do it.
Full fitting instructions supplied. It does EXACTLY what it says on the tin!
Complete with Lifetime Guarantee. Grab a bargain today!