The SA/50 Status add-on module is supplied as an accessory for our Wire In Galvanic Isolator (Model Gi50/16/S & Gi32/S).
If you already have an isolator that looks like the one in the picture, our Status Alert module can be used to upgrade it to a remotely monitored isolator, allowing you to check at a glance whether any AC or DC leakage is present.
Please note that you must already have the isolator fitted – the item offered here is just the add-on module – the part with the lights on.
Often, Galvanic Isolators are fitted in inaccessible places – making them inconvenient to check. The Status Alert Module provides you with an "At-A-Glance" indication of any problems with your boat's earthing system, giving you peace of mind and ensuring that you are alerted to any problems.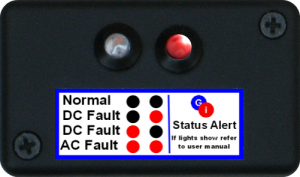 The Status Alert Module (SAM for short) upgrades your existing wire in isolator with a simple 2-wire connection to a compact monitoring device that can be located at a distance of up to 100ft (30m) from the main isolator. The SAM measures just 60 x 35 x 15mm, and will fit just about anywhere.
Wiring is simple and straightforward – it simply connects to the terminals of your existing isolator, as shown in the image below.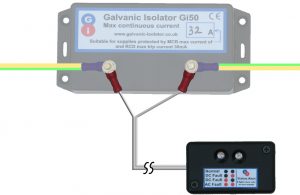 The shaded parts are your existing galvanic isolator, already wired into the boat's electrical system. All you have to do is connect the two wires on the Status Alert Module to the terminals on the isolator. It's as simple as that. Supplied with 5m of cable fitted. This can be easily shortened or lengthened (up to 100ft (30m).

The SAM/50 is fully guaranteed for 5 years against faulty materials and manufacture. Supplied with fitting instructions.
Check your earthing at a glance.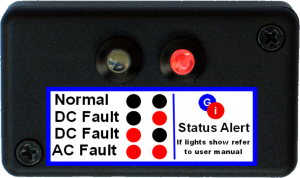 Both Lights OFF: Normal operation. No action required – just check back occasionally to ensure that all's well.
One Light ON: If either of the lights are on, it indicates DC leakage. This can cause severe corrosion to your boat. Our instructions give clear basic advice on how to resolve the problem.
BOTH lights ON: If both lights are ON, this indicates AC leakage, usually from the mains wiring or a connected appliance. AC leakage can be a danger to life. Please see instructions for help in rectifying the problem.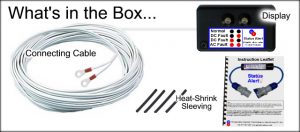 The SAM/50 is supplied as a kit, so in most cases you won't need to buy anything else (assuming you already have an isolator of course). 
Full fitting & operating instructions are provided.



IN STOCK for immediate dispatch.
Prices INCLUDE postage in UK. Please contact us for international shipping costs.
[scabn name="Stat' Alert Module SAM/50″ price="34.95″ qty_field = "true" b_title="Add To Cart"]
Specification
Dimensions (Display) 60 x 35 x 15mm
Quality Construction
DC Status monitoring: YES
AC Status Monitoring: YES
Max remote cable length 30m