We specialise in Galvanic Isolators.
Galvanic Isolators protect your boat's hull from corrosion currents which can corrode your hull, pit your prop, and damage your stern gear. Not to mention severely reducing the life of your anodes.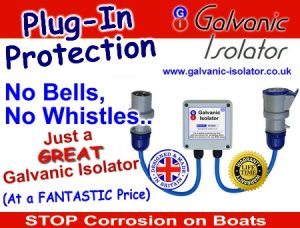 It takes hardly any time to fit this isolator, and it has a Lifetime Guarantee, so it'll go on protecting your boat for YEARS to come.
Has YOUR boat got Galvanic Corrosion? Check around the waterline. If there is pitting, it's likely to be Galvanic Corrosion. Also, if your anodes don't last as long as you's expect, Galvanic Corrosion could be the cause.
For more information, please click  Here