Covid-19: We are open as normal. All our products are in stock for immediate dispatch. We have upgraded the postage service to 1st Class, for faster delivery.
The simplest Galvanic isolator you can get is our Plug In model. It gives GREAT isolation, and is incredibly easy to use.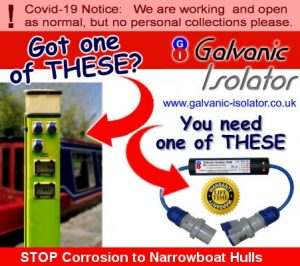 No wiring needed – it just plugs in. Standard 16A connectors fit virtually ALL narrow boats & cruisers in the UK.
The beauty of a plug in Galvanic isolator is that it can be fitted in literally seconds. HERE  is a link to our video that shows just how easy it is.
The isolator starts to work the moment you plug it in. The protection doesn't build up over a period of time – it's instant, so any Galvanic corrosion that's being caused by currents in your hook up cable stops immediately.
How long do Galvanic Isolators last? That's one of the questions we are most often asked. Fortunately, the answer's easy. A Galvanic isolator has no set length of life, and we have isolators that have been in use for well in excess of 10 years that are still performing as well today as they were when they were brand new.
All our Galvanic isolators come with a Lifetime Guarantee. If your Galvanic isolator fails due to faulty parts or workmanship, we'll replace it – regardless of it's age.
There is much more information right < HERE >