Galvanic Isolators Make GREAT Christmas Presents.
.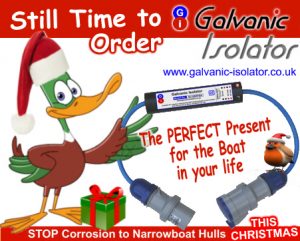 If a boat's connected to an electric hook up, it needs a Galvanic Isolator to keep it safe from corrosion. And our Galvanic Isolators are SO easy to install. You can fit one in less time than it takes to pull a cracker 🙂 .
Order now , and we'll guarantee pre- Christmas delivery in the UK. 
So… if you're stuck for a gift idea for the captain, (or even for yourself), place your order today for fast delivery.  Please check out the link below. And Merrrrry Chrissstmas!!!
More info RIGHT HERE