Description
Galvanic Isolator – Wire In – FREE Fixing Kit
Surge Current 500 amps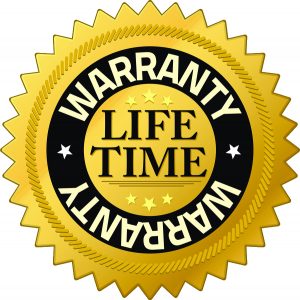 LIFETIME Guarantee
Wire In Galvanic Isolators are perfect if you're fitting out your boat, or for retrofitting to an existing electrical installation.  Suitable for 16 amp or 32 amp supplies.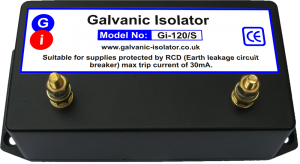 ■ Compact
■ NO Power Loss
■ 100% Maintenance Free
■ Fit and forget
Fitting is a straightforward job, involving inserting the galvanic isolator into the earth conductor between the Mains inlet connector and the vessel's distribution board.
The isolator can be mounted to just about any flat surface, and has a high strength double-sided adhesive on the rear, meaning that in many cases, it can be simply stuck to a surface.
Alternatively, it can be fixed using a selection of mounting options, including two elongated holes for easy alignment.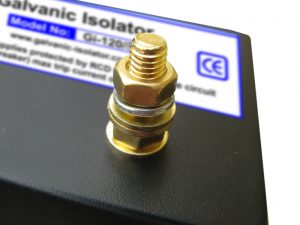 Fitting the galvanic isolator is a simple task, well within the capabilities of many d-i-y ers.
The isolator connects into your Earth connection using two 5mm studs, as shown in the photo.
When the Galvanic Isolator is installed, it will prevent Corrosion Currents from forming an electrical circuit using the shore lead's earth connection.
The Gi-120/S has a LIFETIME Guarantee against faulty materials and manufacture. We also offer a FREE checking service for your peace of mind. (You may want to get your Galvanic Isolator checked in the event of a major electrical fault, lightning strike etc).
Galvanic Isolator Installation:
Installation simply involves disconnecting the earth cable from the mains input connector on your boat, and connecting it to one of the studs on the galvanic isolator. The other stud is then connected back to the mains connector earth terminal. In essence, this breaks the earth connection then uses the galvanic  isolator to span the break.
The Gi-120/S comes complete with fitting instructions, and we are happy to offer fitting advice, where required.
If in doubt, please consult a qualified electrician
---
Galvanic Isolator Specification
Voltage: 110 – 250Vac
Suitable for 16 amp and 32 amp supplies.
Surge Current 500 amps
Temperature Range -50c to 120c
Sealed to IP61
Quality Construction
Fit & Forget operation
Width: 121mm,    Height: 66mm,  Depth 65mm  (Excluding studs 40mm)
The Gi-120/S galvanic isolator is suitable for shore supplies that are protected by a RCD (Earth leakage circuit breaker) with a tripping current not exceeding 30mA. If in doubt, please contact a qualified electrician, or call us on 0757 807 3490