Bank Holiday offer!
For just one week, you can get your hands on our popular entry level Galvanic Isolator for just £49 inc. P&P, and we'll even include a FREE fixing kit.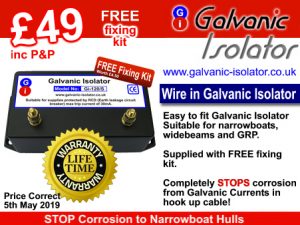 It's really simple to fit, and gives excellent protection from Galvanic Currents that come down your hook up cable and cause damaging Galvanic Corrosion.
So, if you'd like to get a great isolator at a great price, grab one now. For less than £50.
You can buy it right  HERE