Description
Galvanic Isolator – Wire in – Easy Installation – AC Bypass Capacitor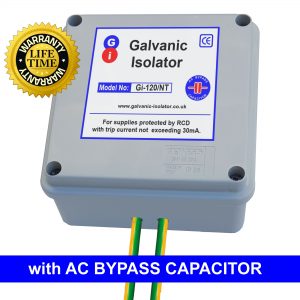 • Surge Protection to 500 amps
• LIFETIME Guarantee
• No exposed connections
• AC Bypass Capacitor
This wire in Galvanic Isolator is designed to be easy to fit, and to have NO exposed connections. So it's incredibly easy to install – the connections are made by simple screw terminals – all you need is a  screwdriver. And because the connections aren't exposed, it's safer, and the installation is far neater! For a really easy to fit Galvanic Isolator, look no further. The simple screw connections take cables from 1.5mm (tiny) to 10mm (huge).  You will NOT need to work on live electricity when fitting this Galvanic isolator.
It's as EASY as fitting a plug!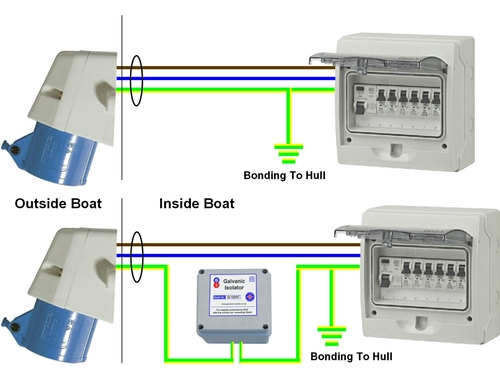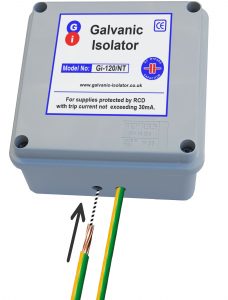 Installation is simple. Just insert the cables into the holes, and tighten the connection screws. In most cases, the installation of the isolator takes about 1/2 hour. It is NOT normally necessary to open the fuse board (consumer unit), and you will NOT be working on live electricity.The cables simply pass through the holes in the bottom of the isolator, then tighten the connector screws inside. It's THAT easy!
This Galvanic Isolator is suitable for all cable sizes from 1.5mm to 10mm.
 A built in AC Bypass Capacitor ensures that your isolator can't be rendered ineffective by earth leakage (which many, many boats have). ALL our isolators are fitted with an AC Bypass Capacitor. Don't buy an isolator without one! 

AC Protection Capacitor. ESSENTIAL if you have 240V on board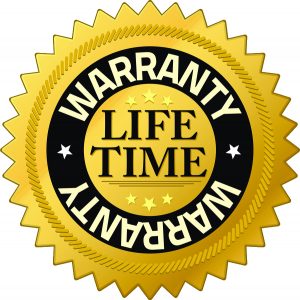 The Gi-120/NT Galvanic Isolator has a LIFETIME Guarantee against faulty materials and manufacture. 
---
Galvanic Isolator Specification
Voltage: 110 – 250Vac
Max Surge Current: 500 amps
AC Bypass Capacitor
Temperature Range: -50c to 120c
Quality Construction
Cable size: 1.5 – 10mm
Connection type: Screw terminals
Super-Compact design
Fit & Forget operation
The Gi-120/NT Galvanic isolator is suitable for shore supplies that are protected by a RCD (Earth leakage circuit breaker) with a tripping current of 30mA or less. If in doubt, please contact a qualified electrician, or call us on 0757 807 3490