Easy Fit Galvanic Isolator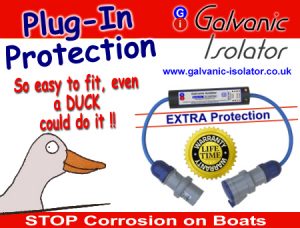 If you think that installing a Galvanic Isolator is hard, ask a duck. Because fitting an isolator is actually so easy that even a duck could do it. Just plug it in – it's as easy as that. You don't need any tools. You don't even need a degree in engineering or electronics.
In fact, all you need is about 30 seconds, (and the desire to stop your boat's hull from rotting away).  
Our Plug In Galvanic Isolators are SO simple to fit that if you find that you can't do it, we'll give you your money back. (Offer does not apply to ducks, because most of them are quackers).
For more info, please click HERE