https://galvanic-isolator.co.uk/…/galvanic-isolator-plug-16…/
Narrowboats don't last for ever!
But you can make your boat's hull last a whole lot longer with a Galvanic Isolator.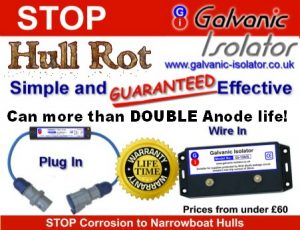 Our Galvanic Isolators just plug into your electric hookup cable, and stop Galvanic Currents from getting past.
Result:- Hulls don't pit, Anodes last MUCH longer, Props don't corrode.
Our Galvanic Isolators start at UNDER £60 – much less than a set of anodes. And you don't even need a screwdriver – and certainly not a drill – to fit our plug in models.
For more information, please click  Here